NTSmartWatchdog
FPGA based safety concept for customer solutions up to SIL3
---
The NTSmartWatchdog concept is a SIL3 prepared solution. It enables your single-channel systems to become safety-capable. It is based on your Customer Application FPGA and an additional Smart Watchdog FPGA. It is certifiable for SIL3 according to IEC 61508.
With the use of the NTSmartWatchdog concept, you can focus on your core competence, functional safety is achieved by using the NTSmartWatchdog concept and the support of NewTec. You can create new systems or integrate it into existing system-architectures with little effort to "safetyfy" your system.
The development approach that the NTSmartWatchdog concept promotes is designed to shorten development cycles. The objective of this approach is to effectively save development effort, improve consistency and reduce the time to market and costs for safety products.
Customer benefits
Short time to market
Reduce development effort
Easy to apply on existing products
Built in diagnostics
Typical applications
Industrial
Automotive
Energy Management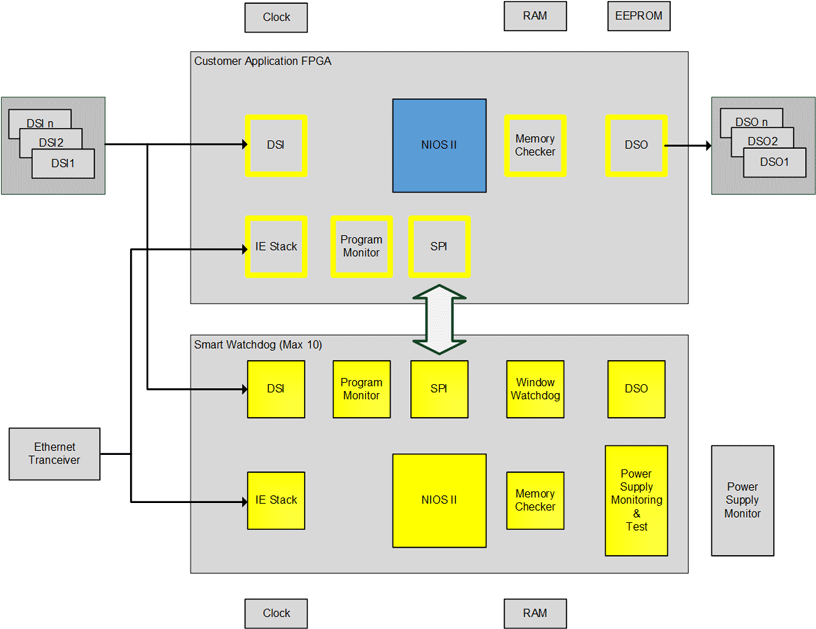 Key features
Intel FPGA as Customer Application FPGA
MAX10 FPGA as Smart Watchdog
Integrated IP-Cores for

Safe RAM
Safe ROM
Safe Clock
Diagnostic Communication

IP-Cores on demand for

Safe Digital Inputs
Safe Digital Outputs
Safe Ethernet Communication

Power Supply Design including Power Supply Monitoring
---